On March 2, 2016, Mr. R V Deshpande, Minister for Large & Medium Industries and Tourism, Karnataka, accompanied by Mr. Gaurav Gupta, Commissioner for Industrial Development visited Dynamatic Park.
Udayant Malhoutra, CEO & MD, Dynamatic Technologies Limited, briefed the honourable Minster about the Aerospace manufacturing activities and evolution of the company over the years from a small Hydraulic Unit to a major supplier of aero structures to the three global Aerospace majors like Airbus, Boeing, and Bell Helicopters. He also highlighted the immense strides made by the company in promoting the Make in India initiative for Defence products through manufacture and supply of 30% of the aero structures for the front line Fighter aircraft, Su-30 to HAL.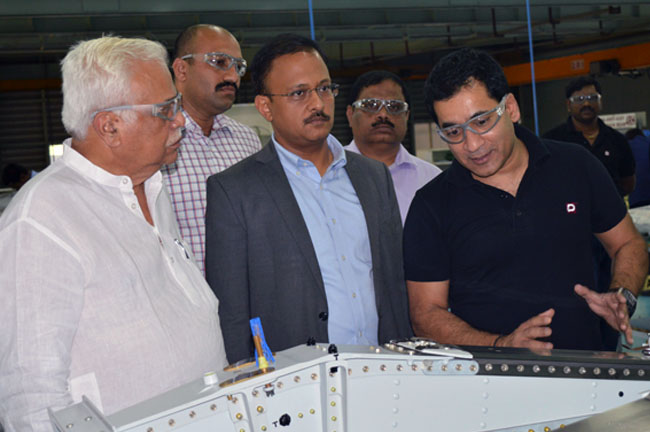 Subsequent to the briefing the CEO & MD escorted the honourable Minister to various Shop Floors where the Minister evinced keen interest and deeply appreciated the state-of-the-art manufacturing facilities. While speaking to some of the workers, the Minister conveyed deep appreciation for the work being done by them and exhorted all of them to put in their heart and soul in learning the nuances of aerospace manufacturing for a greater national cause.
March 2016
President of DMG Mori Company Visits Dynamatic Park
It was a great honour for Dynamatic to host Dr. Masahiko Mori, President of DMG Mori, the world's largest machine tool manufacturer on March 2, 2016.
Dr. Mori spent time with the leadership team of Dynamatic and was briefed about the growth of the company over the years and its diverse manufacturing activities across various plants in India, UK & Germany. He spoke about the immense utility of the State of the art, CNC Machines procured by DTL from DMG Mori.
After briefing Dr. Mori was shown various Aerospace Manufacturing facilities. He was delighted to see DMG Mori machines at Dynamatic, and commented that Dynamatic looked like a hi-tech 'West Coast Company'.