On 16th Feb 2015 prior to the Air Show in Bengaluru, Airbus signed an agreement with Dynamatic Technologies Ltd. to be the single source supplier of 'Flap-Track Beams' for the wide body Airbus A330 Family aircraft.
The agreement not only elevates Dynamatic to a 'Global Tier-1 supplier' but also formed the largest manufacturing contract between Airbus and a private sector company in India. Following up from the agreement in India, Airbus organized an 'India Day' at their manufacturing facility in Toulouse to coincide with the visit of the Indian Prime Minister on 11th April 2015.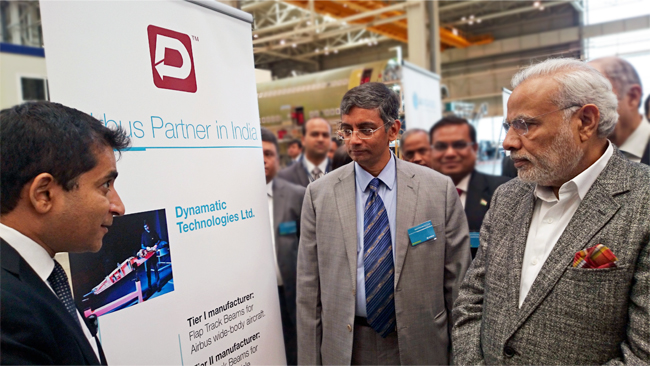 Dynamatic has been manufacturing 'Flap-Track Beam Assemblies for Airbus' single-aisle A320 Family' on a global single source basis as a 'Tier-2 supplier', since 2010.
With the production and delivery of the 'Flap-Track Beams', Dynamatic will continue to have 'Made in India' products not only on Airbus' largest selling commercial jet, the Single Aisle A320 Family aircraft but also on their Wide body A330 family Aircraft, making Dynamatic a Centre of Excellence for the production of 'Flap-Track Beams' in conjunction with the Prime Minister's 'Make in India' campaign.