Dynamatic Technologies Limited and Central Scientific Instruments Organisation (CSIR-CSIO) have signed a MoU virtually for jointly designing, developing and manufacturing futuristic solutions for the Defence and Aerospace, Healthcare and Agriculture industry.
"Our partnership with CSIO is aligned to Government of India's vision of #AtmaNirbharBharat. Symbiotic relationships between private sector and government research labs will go a long way in our endeavour to build a self-reliant India. Dynamatic under the leadership of Dr. Udayant Malhoutra, CEO & MD, Dynamatic Technologies Limited, has been championing Indigenisation of defence production in partnership with PSU's and DRDO since early 90's. This partnership between CSIO and Dynamatic is aimed at making futuristic solutions for Defence and Security, Healthcare and Agri industry." Arvind Mishra, ED & Global COO, Dynamatic Hydraulics®

CSIR imparts and undertakes cutting-edge research in various areas of science, engineering, design, management, and humanities and Dynamatic is engaged in the business of designing and building highly engineered products for Aeronautic, Hydraulic, Automotive and Security applications and to tap the synergy of these two organisations a Memorandum of Understanding for collaboration was signed between Dynmatic Technologies Limited and Council of Scientific and Industrial Research to develop collaborative activities in the research areas of mutual interest, on a basis of equality and reciprocity in the areas of Multi-spectral surveillance payloads of Unmanned Aerial Systems (UAS), Spraying technologies including electrostatic techniques for agricultural purposes using UAS, Instrumentation for ventilators and respirators and Instrumentation for homeland security applications. Prof. Ramakrishna believes that partnering with Dynamatic was an extremely strategic one for CSIO and he hoped that it will lead to large scale translation of CSIO's research into products.
(L to R) Lt. Col. Ravi Bandreddi (Retd), Senior General Manager, Dynamatic Homeland Security®, Dr. Udayant Malhoutra, CEO & Managing Director, Dynamatic Technologies Limited, Arvind Mishra, Executive Director & Global COO, Dynamatic Hydraulics®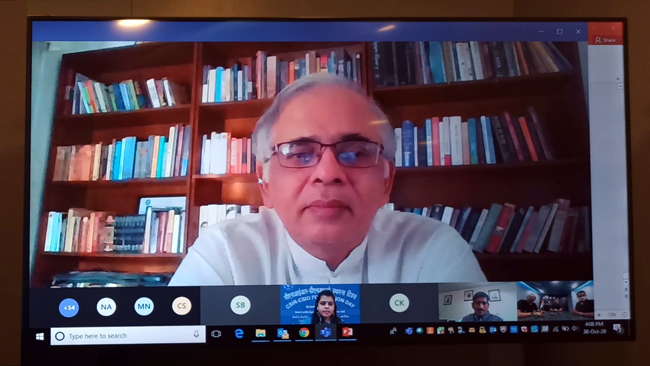 Dr. Shekhar C Mande, Director General, CSIR
(Top Left) Lt. General Sanjeev Madhok, PVSM, AVSM, VSM (Retd), Head of Defence Business, Dynamatic Technologies Limited,
(Top Right) Prof Anantha Ramakrishna, Director, CSIO