Bengaluru, July 23, 2019: Dynamatic Technologies has delivered the 5000th shipset of Flap-Track-Beam Assembly for Single Aisle Aircraft (A318, A319, A320 & A321) Family to Airbus. Dynamatic Technologies along with its partner Spirit AeroSystems have successfully globalised the production of a Class-1 Flight Critical Assembly that plays an important role in Flight Take-off and Landing.
This is the first instance that a functional aero-structure of a major commercial jet is being manufactured by an Indian private company. Dynamatic is the global single source supplier of Flap-Track-Beam Assemblies and has over 160 technicians and engineers dedicated to the program
"Spirit and Dynamatic have forged a great and powerful partnership for more than a decade. This achievement of reaching the 5000th Shipset of Flap-Track-Beam Assembly, shows the collaborative effort in meeting requirements of our customer, Airbus. Dynamatic has always impressed us with professionalism and energy in making the program a continued success." said Scott McLarty, Senior VP, Airbus Programs, Spirit AeroSystems.
"It is a milestone moment for India & Dynamatic, having demonstrated sustained excellence in producing complex wing-movables, as a global sole supplier for Airbus. It underlines Airbus' commitment to 'Make-In-India' as a critical element of its global procurement strategy. It is also a testament to the benefits of teaming with Spirit AeroSystems, the world's leading aero structure manufacturer." said Udayant Malhoutra, CEO & Managing Director, Dynamatic Technologies Limited
Dynamatic is also a Tier 1 supplier of Flap-Track-Beams for Airbus A330 Family. The Company celebrated delivery of the 100th shipset of Flap-Track-Beams to Airbus in February 2019, to support the production of A330 and A330neo aircraft. These are produced at Dynamatic Aerotropolis, a state-of-the-art facility set up by the Company in KIADB Aerospace Park, near Bengaluru International Airport. Dynamatic has created a unique business model with a global footprint by manufacturing detail parts in the UK and assembly in India.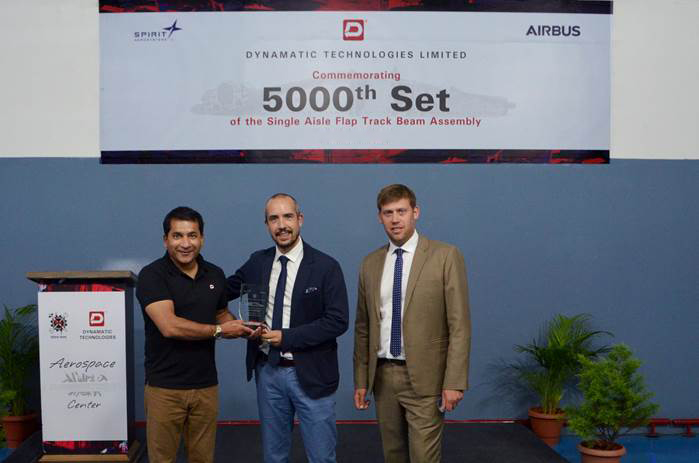 Mr. Udayant Malhoutra, CEO & Managing Director, Dynamatic Technologies Limited, Mr. Jose Maria Trujillano, Vice President Wing Procurement – Airbus, Mr. Steve Archer, Head of Wing Leading and Trailing Edge Procurement – Airbus (L to R)